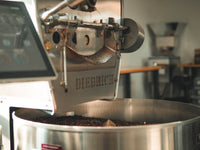 An Art and a Science
We've spent an enormous amount of time developing the optimal profile (recipe) for every one of our coffees. Once we get it, we take notes to make sure we can repeat it.
Our slow roasting process allows the natural sugars in coffee to caramelize resulting in a smooth and sweet cup.
Friendly, local, top quality and an amazing taste, Aroma Maya Coffee is the way to go!
Great for fundraisers with quick delivery to your door, highly recommend!

Natasha P.
Trust the reviews, this is the good stuff.

Eric J.
My favourite coffee, hands down!! 5 stars all the way 🌟🌟🌟🌟🌟

Mary M.
Grabbed a bag of Huehuetenango Highlands medium roast on a whim, cause I don't like to try new coffee. Now I'm hooked, it is the best coffee I've ever drank. No bitter after taste. 

Kim C.J.
This is quite literally the best coffee I've ever had in my entire life! So fresh, smooth and the flavour is just incredible. Don't think about it, just try it!

Brittany B.
coffee is delicious!! blazes blend is fantastic!! Please continue making this blend. Also purchased the morning blend and it is delicious as well. you hsve a customer for good❤

Patricia L.
Aroma Maya sellls what I think is the best tasting coffee, anywhere, and I've had coffee direct from several world coffee regions. The richness and variation of flavours, all from Guatemala make each a unique flavour experience

Steve S.
Outstanding customer service and excellent quality coffee every time. Highly recommend!

Jessica P.
Fantastic coffee. I love the ability to get my favourite roast delivered to my home.

Dave R.